About Us
When we say family owned and operated, we mean it!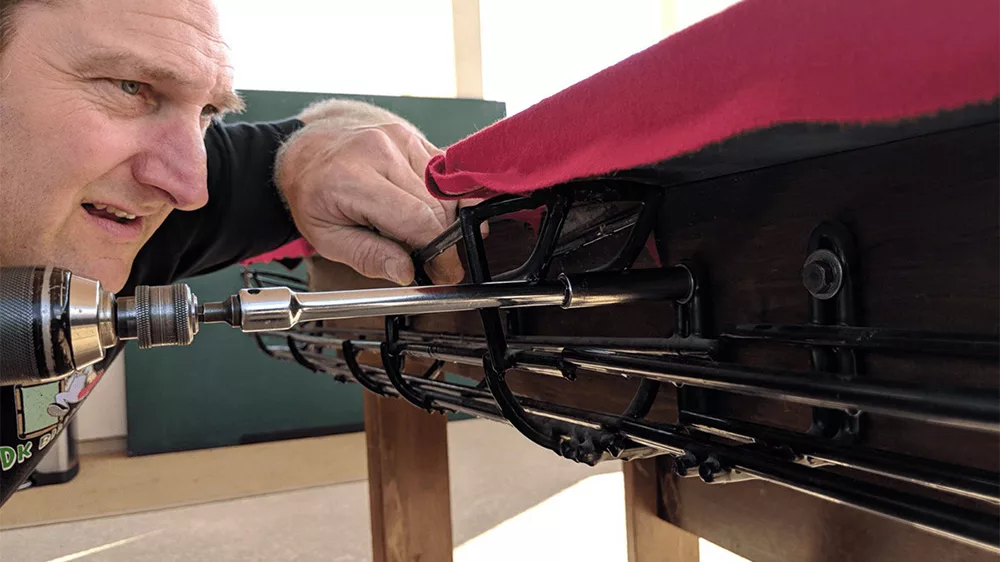 The Pool Table Guru Story
In 1989, I saved enough money to buy a used pool table from a church in Anaheim, California. The table had a non-slate particle wood playing field, and no matter what, the table would not play "true". I even tried taking the table apart and replacing the half-inch particle board with a one-inch thick one. I only found that it played worse! Frustrated, I sold my Meucci cue for a 4X8 slate pool table. The Delta one-piece slate table needed many repairs. My friend Mark helped me get the materials to repair the table. I set it up in my backyard and played pool all the time, even joining tournaments at bars and pool halls to practice my game.
I was 20, unemployed, and still living at home. My dad gave me an ultimatum – be gainfully employed by the following week or move out and end up with no pool table. I went to Mark's dad, Dick Johnson, owner of Golden West Billiards in Orange, CA, and talked him into letting me work at the shop. I kept my pool table and started with tasks like cleaning the shop, polishing balls, and repairing cues. I soon started helping co-worker John Campbell on deliveries and repair jobs, soaking up his 25-year experience. I started to see an excellent opportunity for my own business.
In 1992, using the knowledge I gained from John Campbell and Mark Johnson, I started out on my own. I had a set of not yet paid-for tools in the back of my Peugeot 504 and one roll of green billiard cloth. I solicited every bar and cocktail lounge in the area until they let me service their pool tables. After building up a small base of commercial clients, I decided to expand into the residential market by posting and handing out flyers in the neighborhood. I registered for a business license, placed a small in-column ad in the yellow pages, and officially became DK Billiard Service in 1993. Customers began inquiring about pool table moving and I began to realize the 504 would not lend itself to this task. I borrowed $1500 from my dad and purchased a 1978 Chevy Van for moving services. I was off and running. In 1998, my Chevy Van, now twenty years old, began to show its years. I purchased a brand new Chevy to take its place. A local artist, Keith Guenther, custom painted the new van (and the two after that) and created the DK logo as it is today.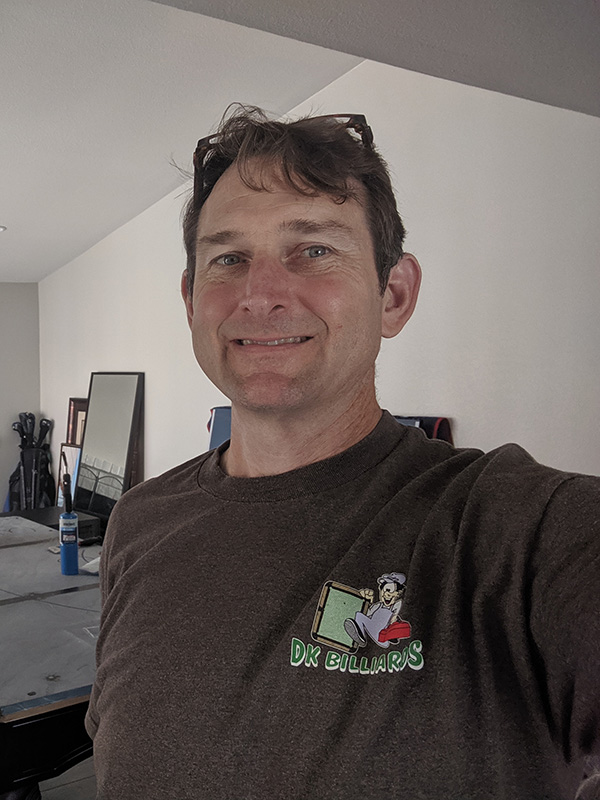 David
Owner/Operator
David, a.k.a. the Pool Table Guru, has the brains to match the brawn. He has over 30 years experience working with what he loves – pool tables. He started DK Billiard Service in 1992 and has hands-on experience with nearly every make, model, size and type of billiard table ever built. Rest assured, your table and home are in good hands because he is licensed and insured.
Rory
Operations Analyst, Showroom Manager
You will find Rory in the showroom. She wears many hats including game room planner, graphic designer, sales lead, mom. She can help you find a pool table that fits your decor as well as your budget or pick out a great cloth color to refelt your pool table with.